Profile Extrusion and Tubing Experts
As one of the largest custom profile extrusion companies in North America, Mercury Plastics has extensive expertise with profile extrusion, tubing extrusion, and co-extrusion in a wide range of
materials including:
Rigid and flexible PVC
Polypropylene (PP)
Polystyrene (PS)
Polyethylene (PE)
Polyphenylene Ether (PPE)
PEX
Nylon
ABS
EVA
TPE & TPV
Polysulfone
The extruded part is only the beginning. We also excel at executing in-line value added operations including:
Tape application
Notching
Cut-to-length
Punching
Printing
Our post-extrusion fabrication capabilities include: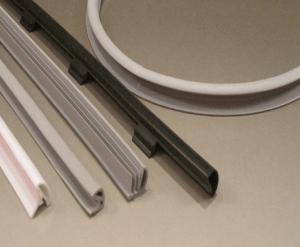 Sonic welding
Plate welding
Spin welding
Laser welding
Forming
Punching
Drilling
Whether you need design input, an improved product or just want to reduce your product costs, our experienced engineering staff is ready to work with your team.
To discuss your needs or learn more, send us an email or call us at 440-632-5281.
To view images that illustrate our broad range of capabilities, visit our Capabilities Library.