Improving Material Properties
Mercury Plastics has more than 20 years of experience in cross-linking a variety of materials utilizing our 5 MeV electron beam accelerator.  We are one of only a few companies in the country that have a captive operation of this type. We utilize our cross-linking expertise to enhance the properties of the products that we produce in-house and also for external customers that send us their products to cross-link.
In addition to our existing 5MeV accelerator, we are also in the process of adding a second electron beam accelerator to our operation.  A 10 MeV electron beam accelerator facility is under construction and the unit is scheduled to begin operating at the end of 2023!
Examples of products that we process through our electron beam: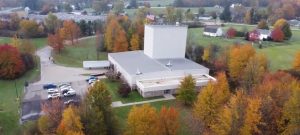 Tubing
Wire & cable
Heat trace cable
Electrical components
Plumbing components
Heat shrink plastics
Gaskets and other molded parts
Closed cell foam
Synthetic gemstones
Sheet film
Irradiation cross-linking results in several performance improvements, including:
Improved tensile & impact strength
Taste & odor enhancement
Kink resistance
Creep resistance
Resistance to stress cracking
Chemical resistance
Improved compression set
Extended product life expectancy
Resistance to chlorine / chloramine attack
Abrasion and wear resistance
Improved dimensional stability
The use of irradiation cross-linking eliminates the need for chemical additives in the cross-linking process.  Since there are no chemical additives used, there are no chemical residuals remaining on the cross-linked product.  Ultimately providing a clean, safe and environmentally friendly approach to cross-linking.
Whether you are in the product development phase or full production, Mercury can assist with your cross-linking requirements. Contact us at info@mercury-plastics.com or by phone at the 440.632.5281 to learn more about how we can help with your specific application.