Improving the Properties of Plastics
Mercury Plastics has extensive experience in cross–linking a variety of polymers including high density polyethylene (PEX), nylon (PA), flexible PVC, ethylene vinyl acetate (EVA), using irradiation electron beam (e-beam) technology.
Mercury has been operating our electron beam processing plant since we built the facility in 1999.  This 25,000 square foot facility has allowed us to gain extensive experience using e-beam processing in order to cross-link a variety of polymers.  Our in-house e–beam facility has allowed us to enhance the properties of these materials, thereby developing unique materials such as PEX OT.  Mercury is one of only a few companies in the country to have a captive operation of this type.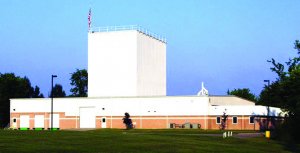 Cross-linking results in several performance improvements, including –
Kink resistance
Creep resistance
Resistance to stress cracking
Chemical resistance
Compression set
Product life expectancy
Resistance to chlorine / chloramine attack
Abrasion and wear resistance
Improved dimensional stability
Taste and odor performance
The use of the irradiation cross-linking method allows Mercury Plastics to maximize extrusion rates, minimize cost, maintain consistency and quality through precise control over the cross–linking process and provide our customers with minimal turn around time on orders. This method is an excellent alternative to the silane or peroxide (Engel) method.  Irradiation cross-linking is also proven to be the most "green" method of cross-linking due to the fact that production waste can be captured and returned to the production process.
This is just one more technology that we use in combination with our other capabilities to offer you products that deliver the best possible performance at the lowest possible cost.