A Proven Partner
Mercury Plastics LLC is located in Middlefield, Ohio – about 30 miles east of Cleveland. We have been in business since 1965 providing custom thermoplastic products to the appliance, automotive, construction, electrical, liquid dispensing, marine, medical, off-shore oil exploration and plumbing markets.
We have three manufacturing facilities in Middlefield where we extrude, injection overmold, cross-link, and perform fabrication operations. Our core competencies include custom profile extrusion, extrusion of tubing, injection overmolding, our patented Air-Core® blow molding technology, cross-linking and fabrication, such as forming and assembly. We process a variety of materials including polyethylene, PEX, rigid and flexible PVC, nylon, ABS, polypropylene, thermoplastic elastomers, and polysulfone.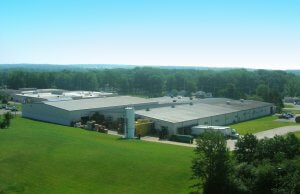 In addition to manufacturing, our primary facility also houses our administrative offices and our Innovation Center. Our staff of engineers and material specialists utilize the Innovation Center to work with our customers to design and develop  products and solutions that enable our customers to win in the marketplace.
We have a fully equipped machine shop and 3D printing capabilities where we complete rapid prototyping of custom parts and produce customer specific tooling.
Mercury Plastics also maintains a comprehensive quality laboratory and testing center to evaluate and monitor key quality aspects of our manufacturing processes and our customer's parts. We are an ISO 9001 registered organization.
Mercury Plastics is one of only a few companies in the world that has a captive electron beam processing facility. This facility houses a five megavolt electron beam that allows us to cross-link a variety of polymers. The cross-linking process changes a thermoplastic material into a thermoset material. Cross-linked products deliver improved physical properties including burst strength, heat resistance, abrasion resistance, stress crack resistance, and improved taste and odor. We are an industry leader in the application of this technology.
In December of 2017, Mercury Plastics was acquired by Masco Corporation, a Fortune 500 public company with annual sales of $8.4 billion. Masco is a global leader in the design, manufacture and distribution of branded home improvement and building products.