Getting from Point A to Point B

Formed tubing is the ideal process solution for routing through tight spaces while eliminating the need for cuts and joints. No need for fittings to make that 90 degree turn.  We can get you there by utilizing our proven forming capabilities.
Whether you are plumbing an appliance, need a formed tube for structural support, or require a specific shape for a conduit, consider the many benefits associated with formed tubing-
Easier routing and assembly in confined areas
Reduce the number of fittings required in a system
Reduces stresses on connections and fittings
Provides a continuous fluid or air path that eliminates potential leak points
Creates a one-piece system when used with one of our overmolded end connections
Reduces labor costs associated with assembly
In addition to providing input for your part design, our engineers also design and construct all of the tooling required to produce your part. This allows us to select the best possible material, control the critical dimensional requirements and ensure that your tooling is appropriate for the volume of parts required.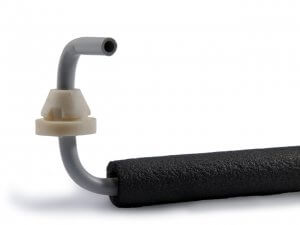 In addition to our forming expertise, Mercury Plastics also has the following fabrication capabilities –
Assembly
Belling
Addition of fittings and grommets
Pad printing and laserjet marking
Precision cutting
Pressure decay and flow testing
Punching and drilling
For complete forming solutions and expertise that are a cut above, email or call at 440-632-5281.
To view images that illustrate our broad range of capabilities,visit our Capabilities Library.